Do you remember the last time you were really relaxed?
Truly, honestly, and deeply relaxed?
If you've ever walked into a spa, you know the feeling I'm talking about.
It's a deep breath that leaves the world outside, it's the tranquil surroundings of a calm environment, it's the sweet smells and simplistic touches that make a spa day so enticing.
Wouldn't it be nice to have that same spa feeling at home?
Now you can.
These luxury bathroom ideas give your home a little piece of tranquility in a world of chaos.
Unique bathrooms designed with comfort and elegance give you spa-like feel in your very own home.
Some of today's more luxurious bathroom designs are inspired by European style interior design. Modern European design maintains some of the classical ornate style of old world Europe and combines it with classic modern tastes.
These amazing bathroom designs inspired by European style work in any bathroom from tiny water closets to his and her master bath combinations. Only a professional plumbing contractor should handle the intricate workings of a new bathroom remodel.
Here are some of the best luxury bathroom designs from around the globe you can bring into your home.
Now you can have a spa-like retreat to enjoy every day.
Scandinavian Bathroom Design
When people think Scandinavian design, they immediately jump to images out of an IKEA catalog.
While the modern minimalist design is classically Scandinavian, there is so much more to explore.
Scandinavian bathroom design is all about function, combined with a simplistic beauty.
It is classic contemporary design, which is sometimes confused with modern design. Modern design only refers to a period of time (1920s-1950s), but contemporary design is always changing evolving, adapting and tends to borrow elements from several different design eras, depending on what is popular today.
Sweden has a beautiful way of taking what is on trend today and stripping it down to simplistic beauty.
Quintessential elements of Scandinavian bathrooms are clean lines and minimalist schemes.
Scandinavians also incorporate natural elements in their design. The Swedish people enjoy the outdoors, and the environment around them, and tend to incorporate natural colors, wood and stone textures and other naturally beautiful elements inspired by Mother Nature.
Color scheme: This represents a classic Scandinavian color scheme. Neutral colors in calm and muted tones of pale blue, cool grey, white and cream. Inspired by the natural elements of ocean, without looking nautical.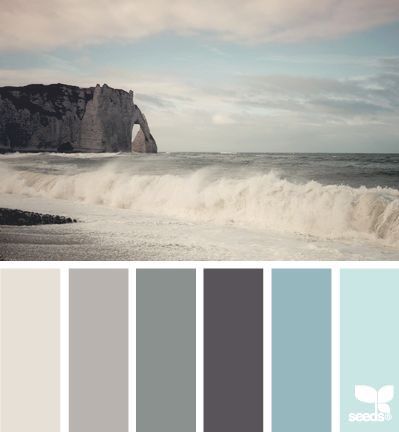 Sink and Vanity: Classic square shape and minimalist design become the focal point of this area. The free floating look keeps the lines clean and incorporates several natural elements including the stone materials, woven basket for storage, and even a green fern on the countertop.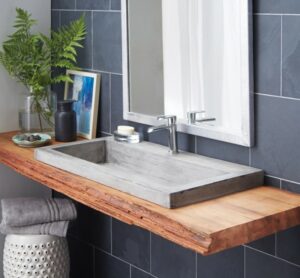 A slightly more modern look, but still incorporates the free floating sink, straight line shelves, and minimalist mirror design.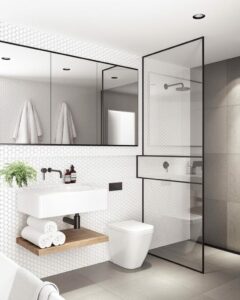 For a smaller space, a tiny sink plays a big role with four drawers of storage while maintaining clean lines, muted colors, and natural wood materials.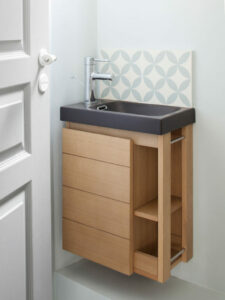 Shower and Tub: A free-standing tub is classic Scandinavian, with simple shapes and classic lines. The fixtures themselves almost blend into the background with lots of clear glass, symmetrical tile, and smooth wall texture.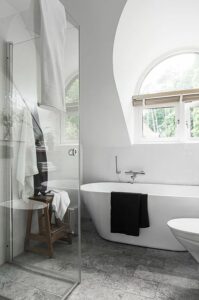 Fabric: Fabrics should be kept to a minimum. Bath and shower enclosures are typically glass and bath mats can be wood or stone. Towels are generally the only fabric in the bathroom. Keep them light and airy by using natural materials like cotton.
Fixtures: Faucets and fixtures are sleek and simple. Chrome is popular, but other metallics also work with this style. The focus is on a modern silhouette and simple design.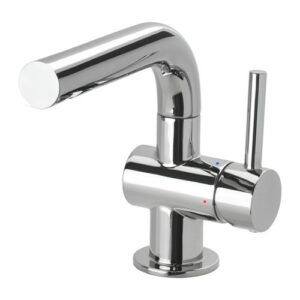 Cabinets: Cabinetry, if used at all, is usually white. However, in Sweden, cabinetry is often eliminated completely because it takes up too much space. Open up space with free floating storage. Basic rails, baskets, and hooks provide the storage you need without too much fuss.
Mirrors: Mirrors play a big role and can add to the style of the room. Geometric shapes and patterns take a classic bathroom element and make it sophisticated.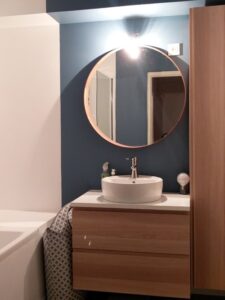 Tile: The subway tile trend actually began in Sweden, and has since spread worldwide. To stay true to Scandinavian design, be sure to keep it white or use natural light stone with white grout.
Lighting: Whenever possible, let the natural light flow freely without hindrance from window coverings. If privacy is essential, consider a window film or tinting rather than bulky blinds or draperies.
Scent: You can actually find candles that are made to smell like different countries. Scents of Sweden are often inspired by sea salt, fresh air, forests, and orchards.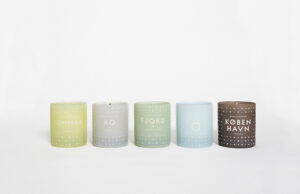 Textures/pattern: When choosing textures or patterns for your bathroom, consider those found in nature. Woods, trees, or shells provide excellent inspiration for adding essential Swedish elements to space.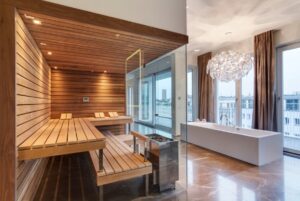 Accessories: There's no need to cover the countertops in baskets, boxes, and jars. Keep accessories minimal. Essentials only. A basic towel and a bar of soap will do. Other bathroom essentials should be tucked away out of sight.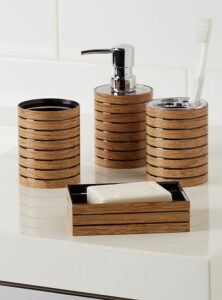 Flooring: Keep flooring light and simple. White or light grey colors work best. Consider oversized tiles that fill a large surface area without a lot of grout lines. Slate, light woods, or even concrete flooring are other options that pull the Swedish design together seamlessly.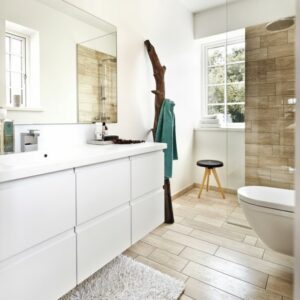 French Bathroom Design
The French might be the world's most stylish people. From their clothing to their pastries, the French definitely know a thing or two about luxury. French design is never undone, overdone, or underwhelming; it is simply perfect.
To some, French design is chic red, black, and white with bold accents and strong lines. For others, classic French is soft, pastel colors, embellished furniture, and ornate trims. The truth is, French can be both. Just as a pastry chef can create several delicacies, French design can include many forms, but the three most popular forms are Parisian, Provence (country), and Neoclassical.
Parisian tends to be more contemporary; country has a rustic, shabby-chic feel; and neoclassical combines the Marie Antoinette style and the French Revolution era. While each of these three forms has their own unique features, they do share a few common elements. All three forms have distressed elements with the exception of Parisian, which has crisp colors and straight lines. Both Provence and Neoclassical carry a more distressed, aged, and vintage look. The color scheme for all three can be pastels, although Parisian often calls for strong reds, whites, blacks, and often pink.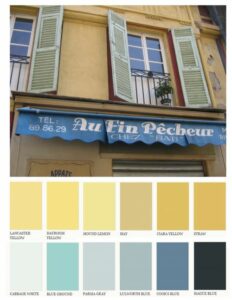 Sink and Vanity: This elegant bathroom design is classic neoclassical French with the pastel blues, ornate gold, and floor to ceiling details. The sink and vanity are oversized, grand, and fit for a princess.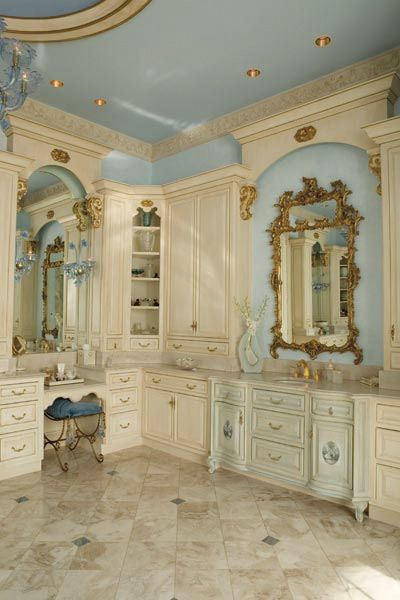 Shower and Tub: Clawfoot tubs are a beautiful French element, and the oversized mirror gives the illusion of a window by reflecting natural light.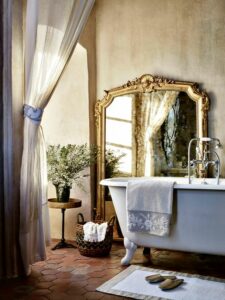 Fixtures: Vintage or rustic fixtures and faucets work perfectly for a rustic or provincial French theme. If you're going for more neoclassical or Parisian, you can use vintage fixtures and refinish them, so they shine like new.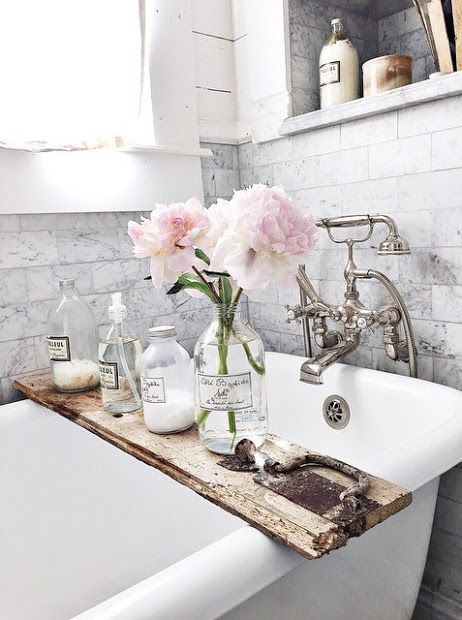 Cabinets: Elaborate and interesting cabinetry works perfectly in any of the French design forms. The piece itself becomes a work of art that enhances the space.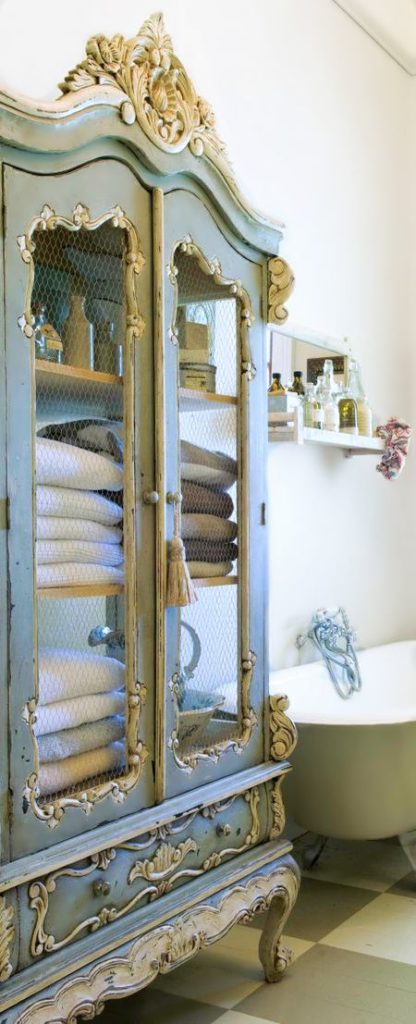 Fabric: If you are going for Parisian or neoclassical French, opt for luxurious fabrics of satin, chiffon, or taffeta. For a provincial French countryside theme, stick with more basic kinds of cotton with vintage floral patterns or delicate details.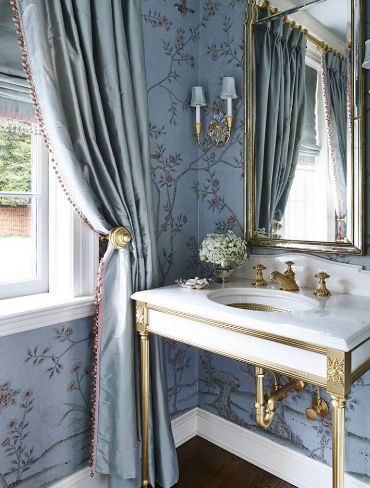 Mirrors: The French love the French. Oversized mirrors with ornate frames create a grandiose and elegant style that works perfectly with any of the basic French forms of design.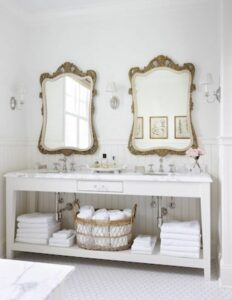 Tile: Patterned tile is a popular element for French bathroom design. The country blue color and a delicate pattern are quintessential provincial France. For neoclassical or Parisian design, keep tiles simple and accent with fabrics or wallpaper.
Lighting: Keep the lighting in style with French chandeliers. Any shape and size can be incorporated into an elegant French design. Small chandeliers work great for mirror lighting. Oversized chandeliers are beautiful above the tub or in the center of the room.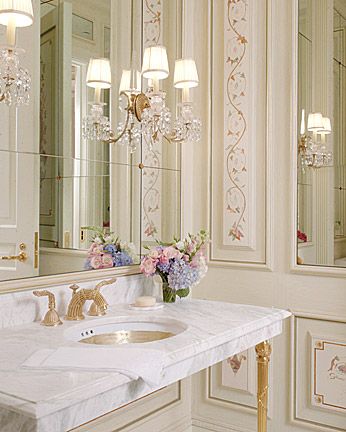 Scent: Nothing says Paris like roses. Incorporate bright red roses for a Parisian theme.  For a more delicate country style, go for roses in pastel colors and vintage blue bottles that look and smell beautiful.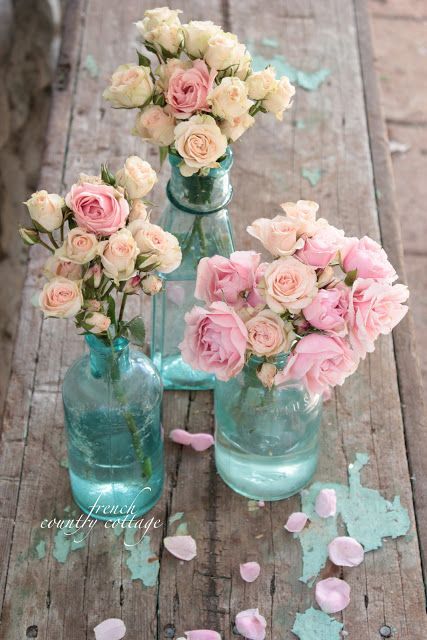 Textures/pattern: Anytime you add texture wallpaper, fabrics, or textures to a French-style bathroom, think floral, over-the-top elaborate designs in soft colors and small patterns.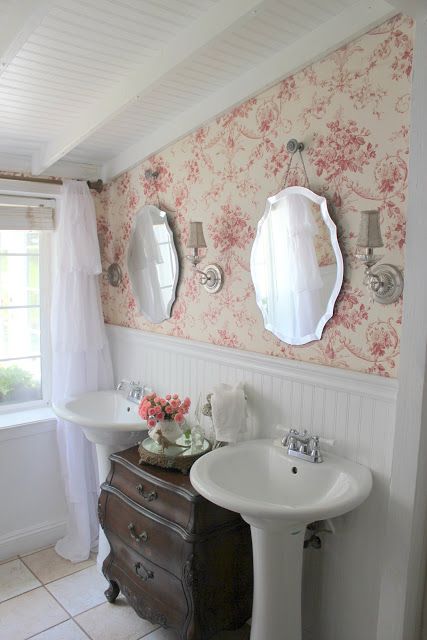 Accessories: Keep accessories vintage and beautiful by gathering items in glass, milk glass, or antique silver containers. Jars, bottles, candlesticks, and trays make beautiful additions.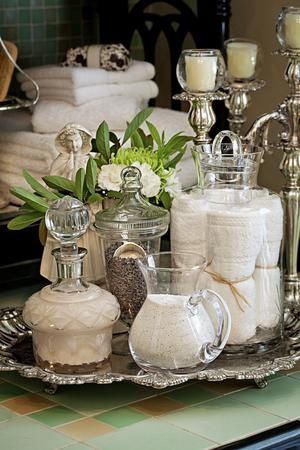 Flooring: Light stone floors combine the look of cobblestone paths with the modern convenience of stone tile. The shape and color maintain the look and feel of provincial France.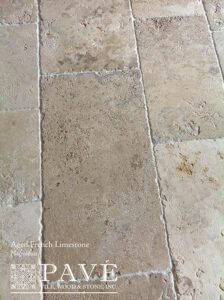 Tuscan Bathroom Interior Design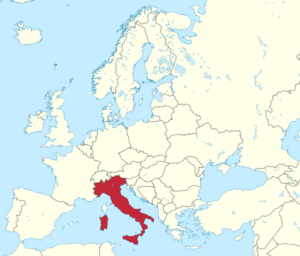 The Tuscan countryside emits relaxation, warmth, and fresh air. If you combine the natural beauty of earthy materials and a healthy appreciation of fine finishes, you can create a beautiful Tuscan style design in any room of your home. Tuscan style has the relaxed feel of sunshine and warmth with the luxurious surfaces of fine Italy. This style is very popular across the globe, but particularly in warm and sunny desert areas, because it uses warm tones and rustic surfaces.
Although the Tuscan countryside is in Italy, it combines styles from several surrounding areas. Tuscan interior design is a mixture between southwestern architecture and Mediterranean style.  Exposed beams, wine cellar accents, flowering plants, deep colors, and rich textures are all elements of classic Tuscan style. When done well, Tuscan interior captures the feeling of the countryside without being overdone. Surfaces and finishes should be durable yet refined. Aim for sturdy, but not overbearing.
Color Scheme: The Tuscan color scheme is warm and natural, reminiscent of the countryside. It includes the brownish-orange of terra-cotta, creamy plaster walls, shades of green, deep purples, bright cobalt, and golden yellow rays.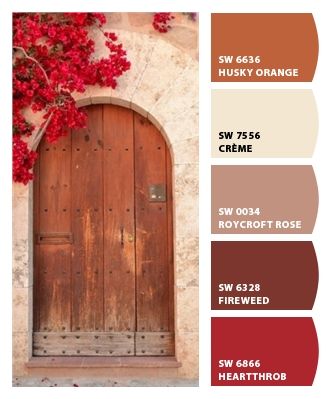 Sink and Vanity: Many Tuscan bathrooms make the sink a focal point. Vessel sinks and beautiful vanities draw attention and set the tone for the area.
Shower and Tub: Deep-soaking claw foot tubs work perfectly in Tuscan style if you have space. Choosing an over-sized shower stall using rustic, textured tiles on the floor and wall works to create the sensation you are outdoors.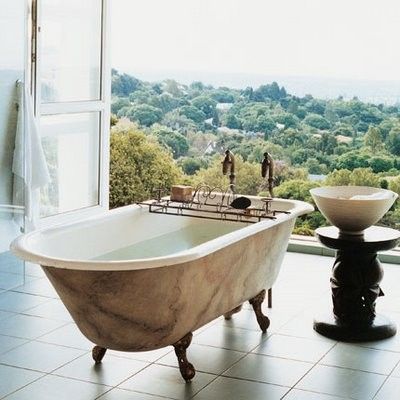 Fixtures: Oil-rubbed, brushed, finished fixtures are relatively easy to find and the dark colors bring in the rich tones of Tuscany.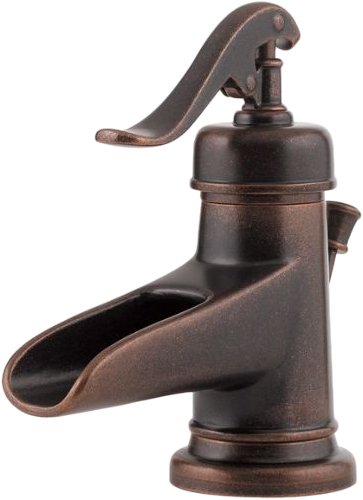 Fabric: Incorporating fabrics is a great way to bring color into the room. Consider upholstery fabrics that are heavy weight with rich jewel tones.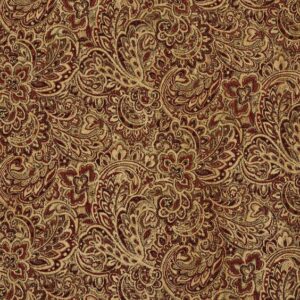 Mirrors: Large mirrors, framed in rich dark wood create a beautiful accent to natural wood cabinetry and oil rubbed bronze fixtures.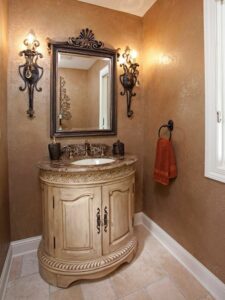 Tile: Beautiful mosaic tiles create a beautiful Tuscan scene. Use them for a backsplash, shower accent, or a wall accent.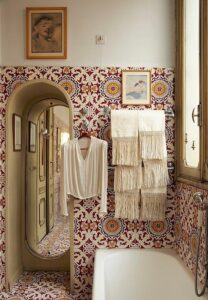 Lighting: Wrought iron lighting fixtures and wall sconces provide beautiful accents in an elegant bathroom design. If you are looking to add bathroom lighting, consider mimicking the bright Tuscan sun with under-cabinet lighting, ceiling light fixtures, or hanging pendant lights.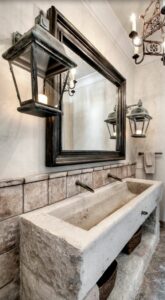 Scent: Enhance the sweet scents of Italy with smells of grapes, orchards, rich wine, and fresh air.
Textures/pattern: Deep, dark wood is quintessential Tuscan. Keep the finish natural with wood, marble, or granite on top. Beautiful Mediterranean style has plenty of scrolling ironwork, high gloss finishes, and intricate carvings or painting.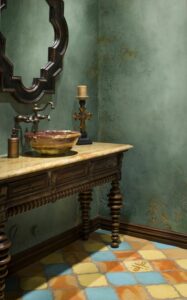 Accessories: A combination of dark wrought iron and milky ceramics make beautiful Tuscan accessories. You can also use terra cotta pots for décor and natural herbs to accent with greenery.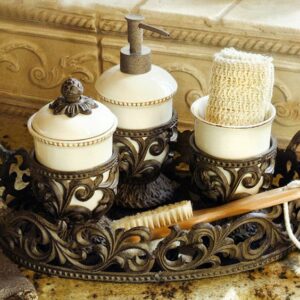 Flooring: Keep flooring in natural stone materials and colors. Terracotta, travertine, marble, granite, and limestone are all good options. Use neutral colors on the floor and accent with colored backsplashes and painted tiles.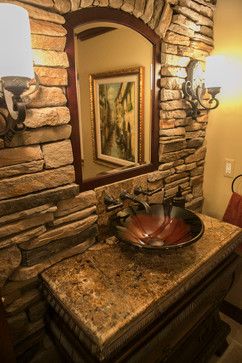 Roman Bath-Inspired Greek Decor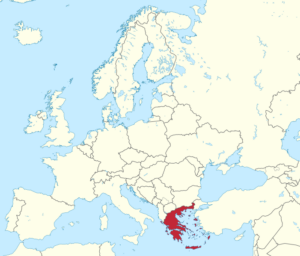 Think of Greek design and you're probably picturing white stucco, blue skies, and olives. Greek interior design combines the pillars, lines, and fabrics of ancient Greek mythology with the colors and textures of the modern Grecian countryside. White and gold with pops of blues, simplicity, and elegance combined in a luxurious space that is relaxing and inviting.
The Greek style focuses on the idea "less is more." Bathroom design inspired by ancient Greece creates an open space that is accented with cozy textures and finishes. Ancient Athens is known for deliberate simplicity. Most often, the accessories used in a home would define them as upper or lower class. Today, this is results in a rich blend of textures and colors to create a Greek revival style that is reminiscent of the Greek Isles. To capture a bathroom inspired by ancient Greece, use elements of nature, keep symmetry in mind, and then carefully edit the space to avoid overdoing it.
Color scheme: Greek design is often characterized by blue and white hues. You can pair different shades to provide a sharp contrast, but typically white dominates the space with just a splash of blue. If you'd like to add additional color, consider green, purple, or deep red tones inspired by Grecian vegetation.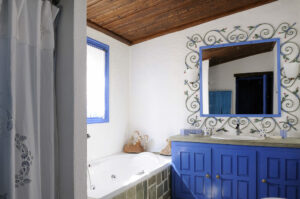 Sink and Vanity: White marble is a beautiful way to incorporate a natural stone look with the clean colors of the Greek countryside.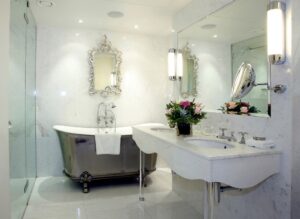 Shower and Tub: Make the tub the focal point by creating a beautiful bath setting. This tub is inlayed and tiled, complete with steps and Greek pillars.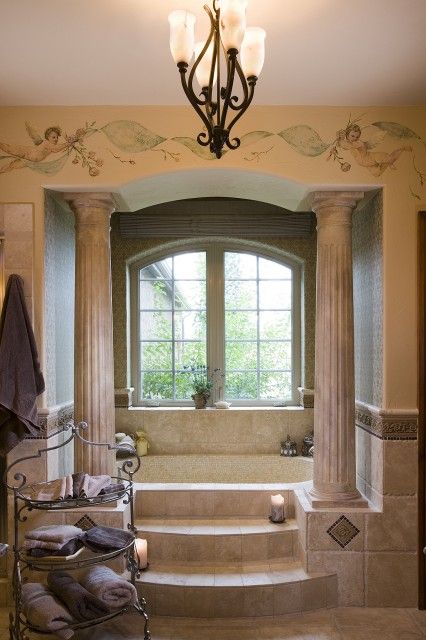 Fixtures: Oil-rubbed, bronze finishes give a beautiful contrast against the white stone. Consider unique fixtures that have clean lines and an elegant feel, like a waterfall faucet.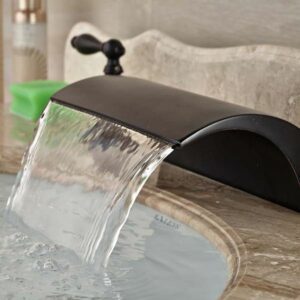 Fabric: Any fabrics or draperies used in a Greek-inspired bathroom should be reminiscent of Greek robes or a modern day Greek tunic. Use light gauze, simple kinds of cotton, or other natural fabrics with simple designs.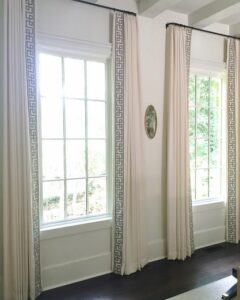 Tile: Accent tiles are a good way to incorporate a pop of color along the floor, border, or in a backsplash. Simple design tiles bring in elements of classic Greek art, without being disproportionate.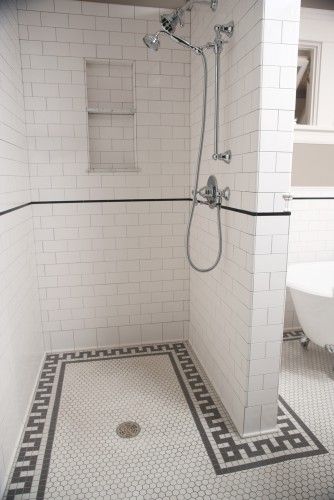 Lighting: When living on the Greek Islands surrounded by water, most décor comes from what is available on the island. Lighting that is rustic, basic, and multifunctional creates a consistent design aesthetic.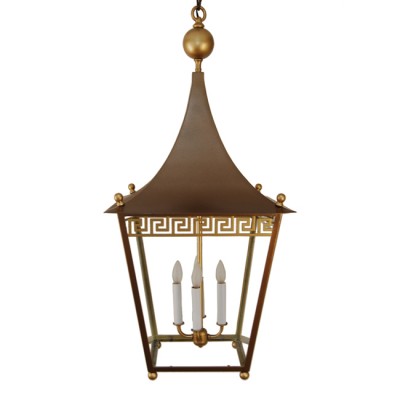 Scent: Breathe in the fresh air, sea salt, and sunshine with scents from the Greek islands. The colors of bright white and blue work to create an air of freshness and cleanliness.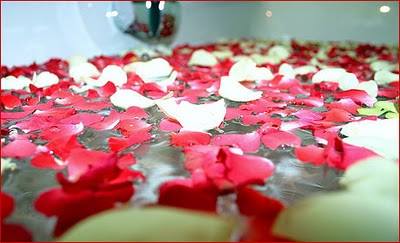 Textures/Pattern: The most common Greek pattern is the meander or meandrous, also known as Greek lines. It is a continuous line, shaped into straight lines and right angles popular in Greek art.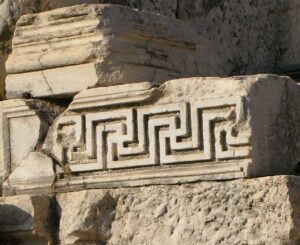 Accessories: Keep accessories natural and simplistic. Most Greek homes have a simple look and feel by using only basic furniture and accessory needs. Keep the room free of clutter.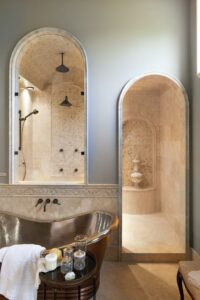 Flooring: For classical Greek style, choose natural stone flooring that is white or light grey. Limestone and marble are both popular choices. Accent with colored tiles, stained concrete, or a bright rug to create a beautiful look.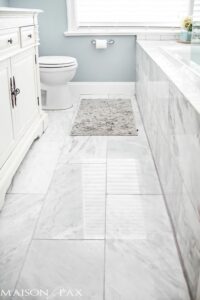 Take a deep breath and travel to another place, another time, another world. Luxury bathrooms can transport you anywhere you'd like. By combining simple elements of color, texture, patterns, and materials, you can create your perfect getaway. Enjoy the simplicity of Sweden, the luxury of France, the beauty of Tuscany and the classic Greek Isles without any travel costs. No passport necessary!
You can even bring your favorite style from across the pond to your Louisville home with luxury bathroom inspiration. Impress the locals with your own slice of international design. Contact your trustworthy plumber Tom Sondergeld in Louisville to help make these relaxing, European paradises a reality in your home today. Call now for a free estimate!